Folded plasma screens is a series that has been formed out of various research trajectories, one of them focuses on  addressing the symbolic violence that is exerted on the witnesses of a conflict and notions such as the subjective phantom developed by Harun Farocki.
Funded by KIASMA Museum of Contemporary Art, Helsinki. Finland.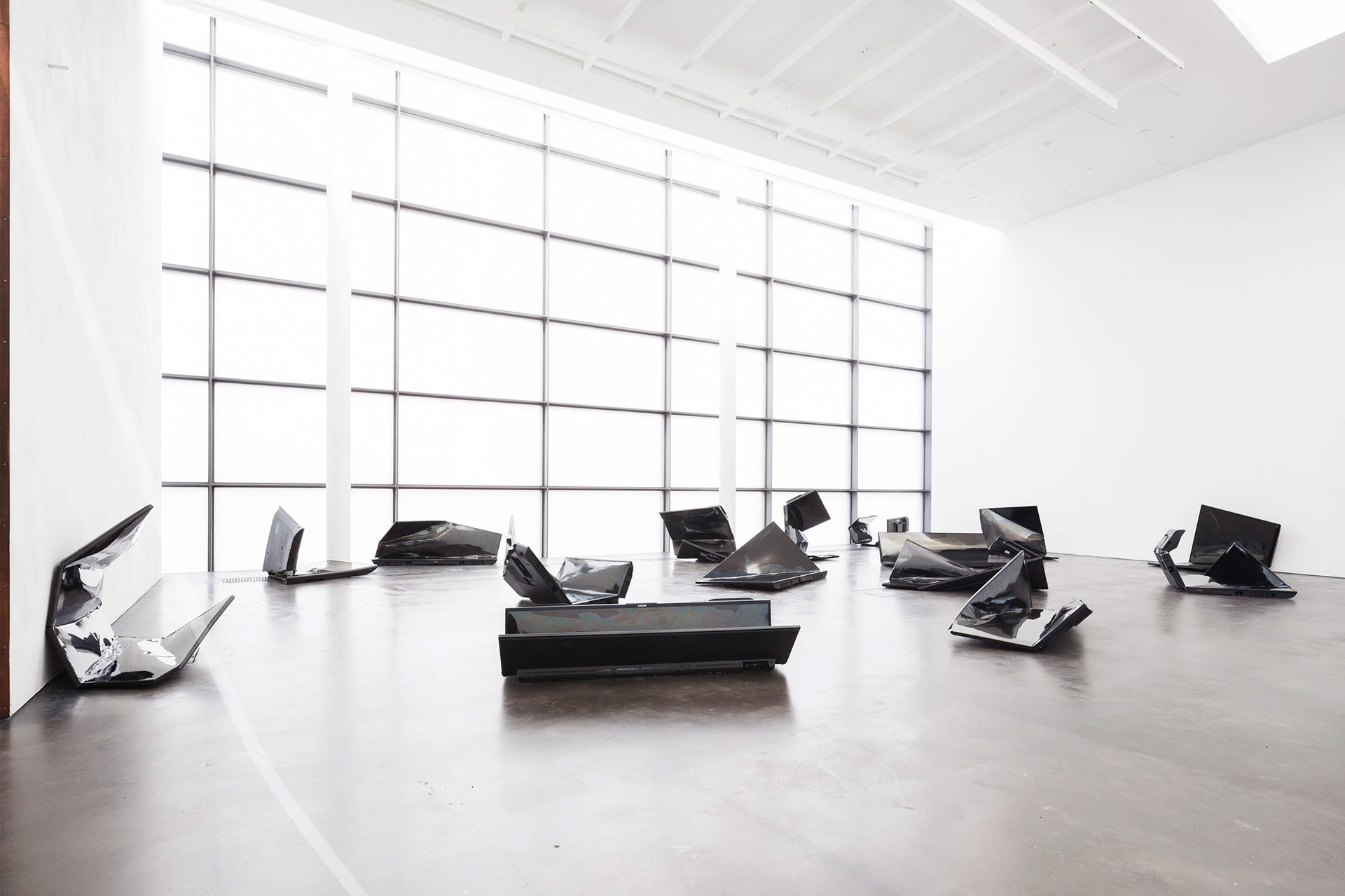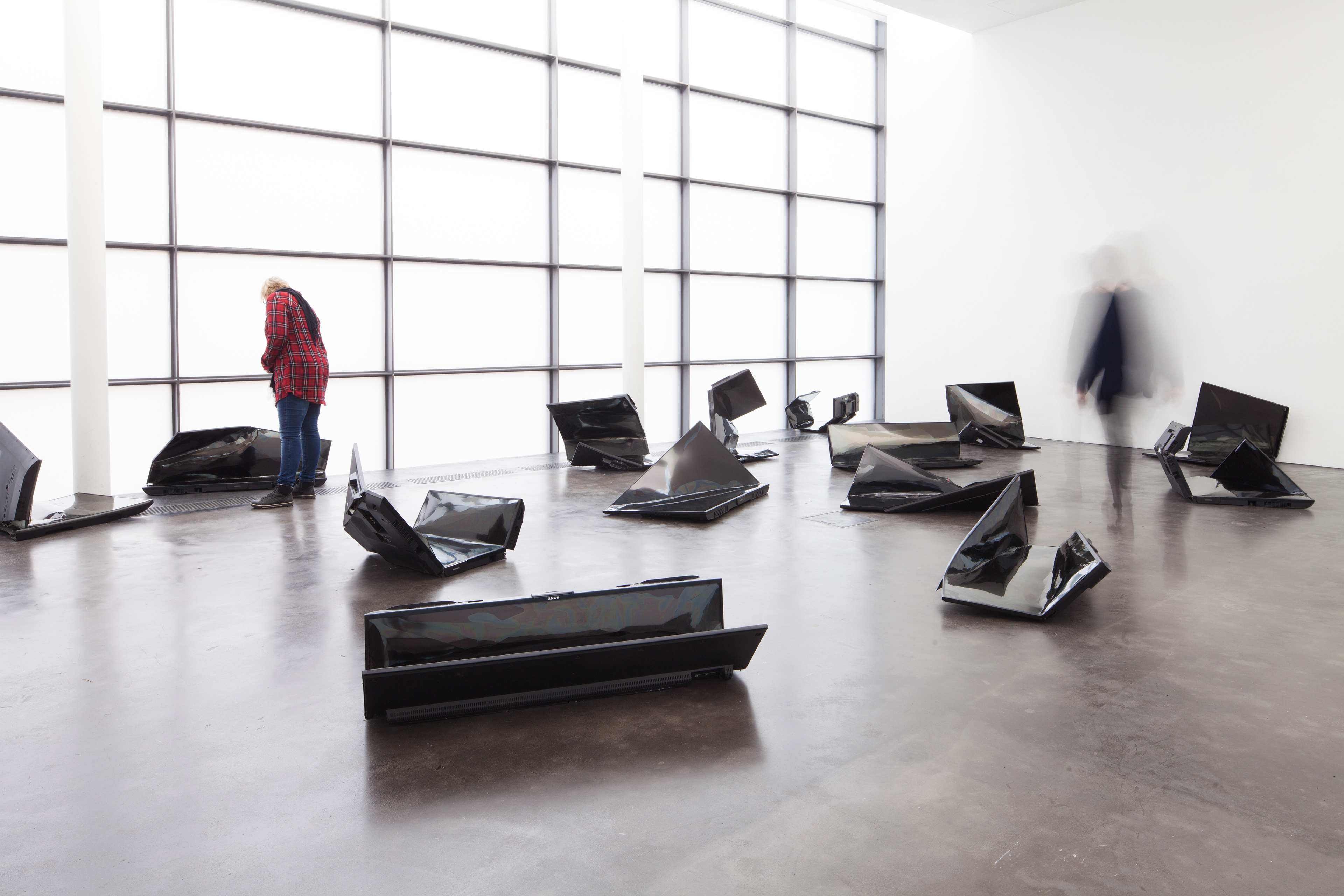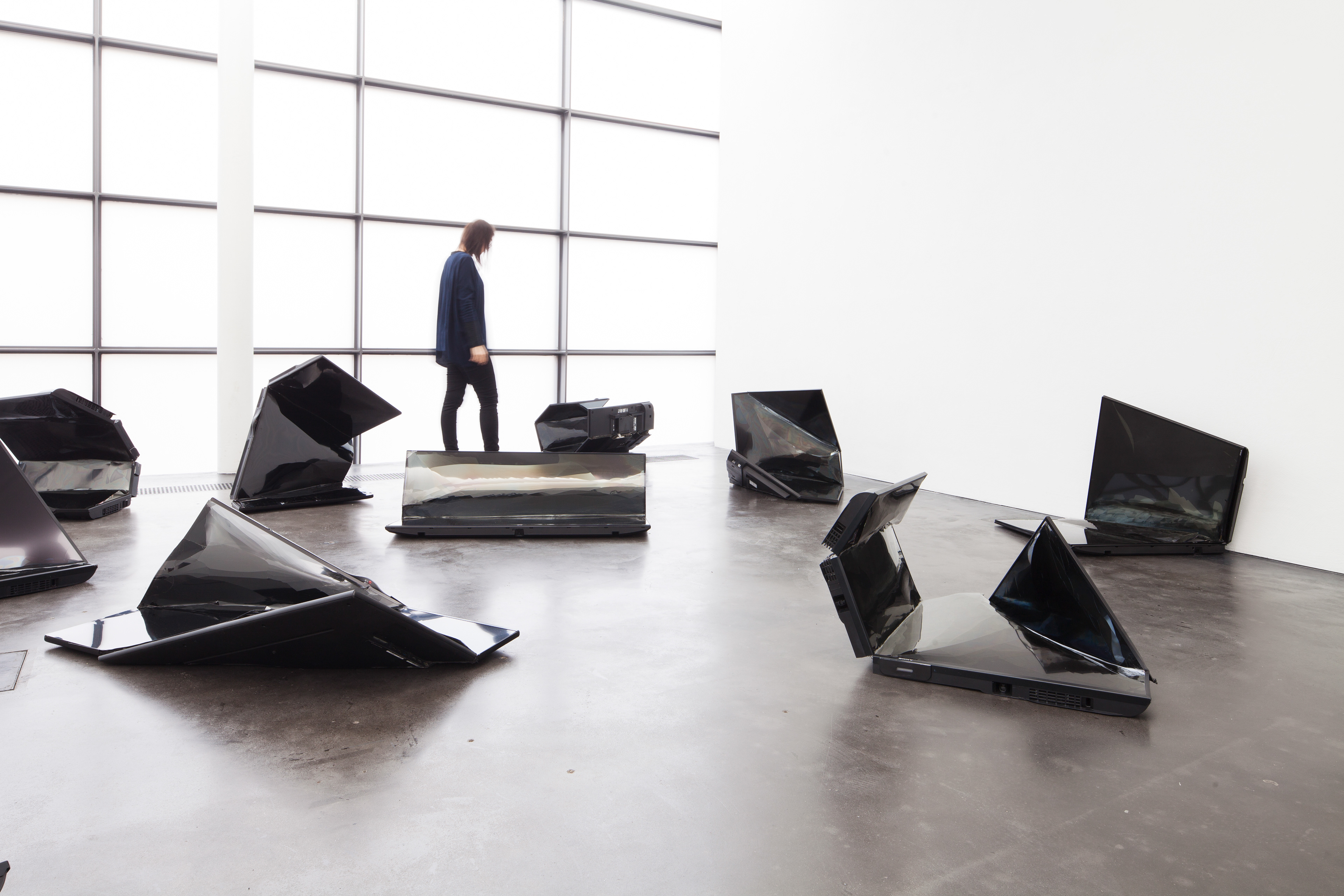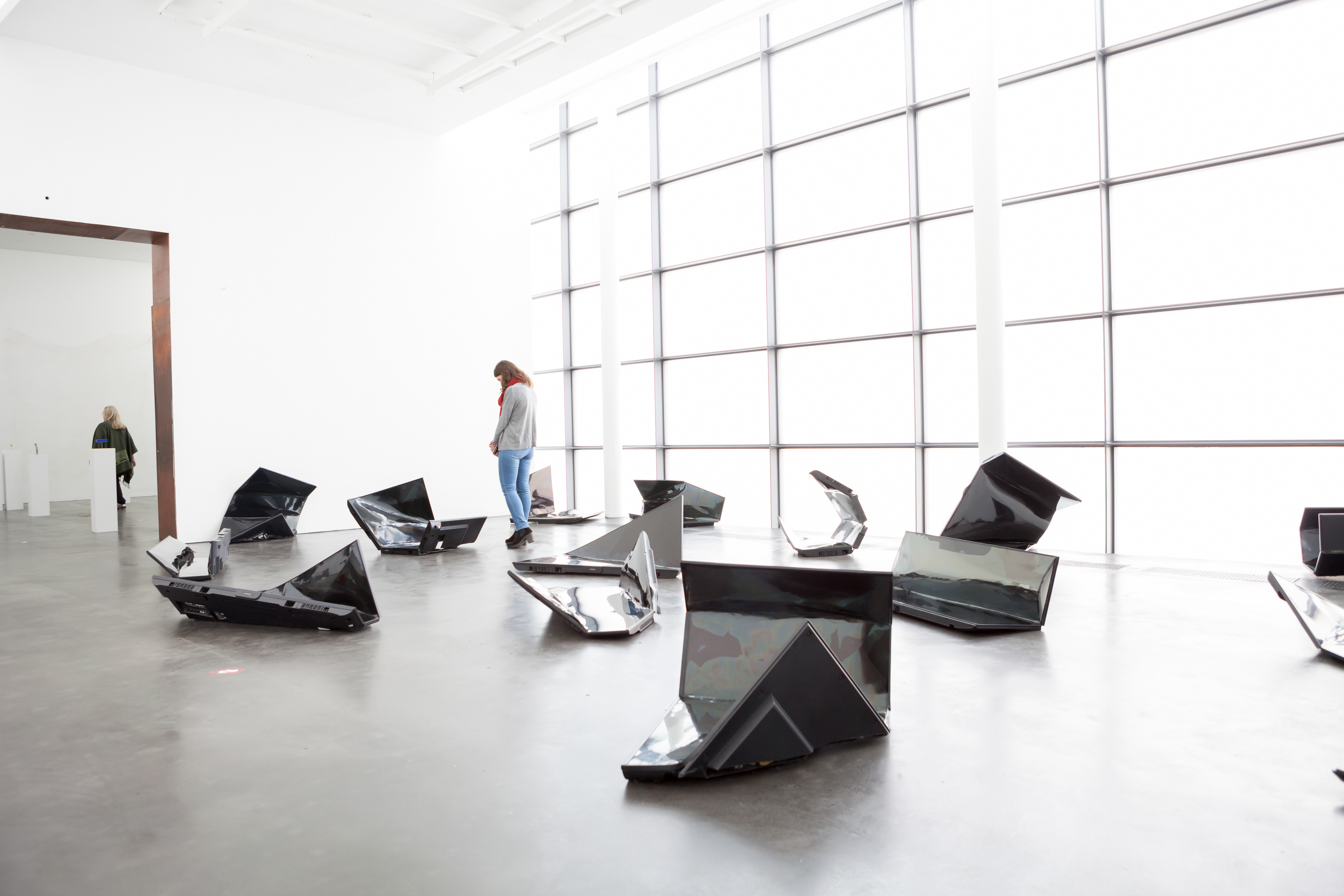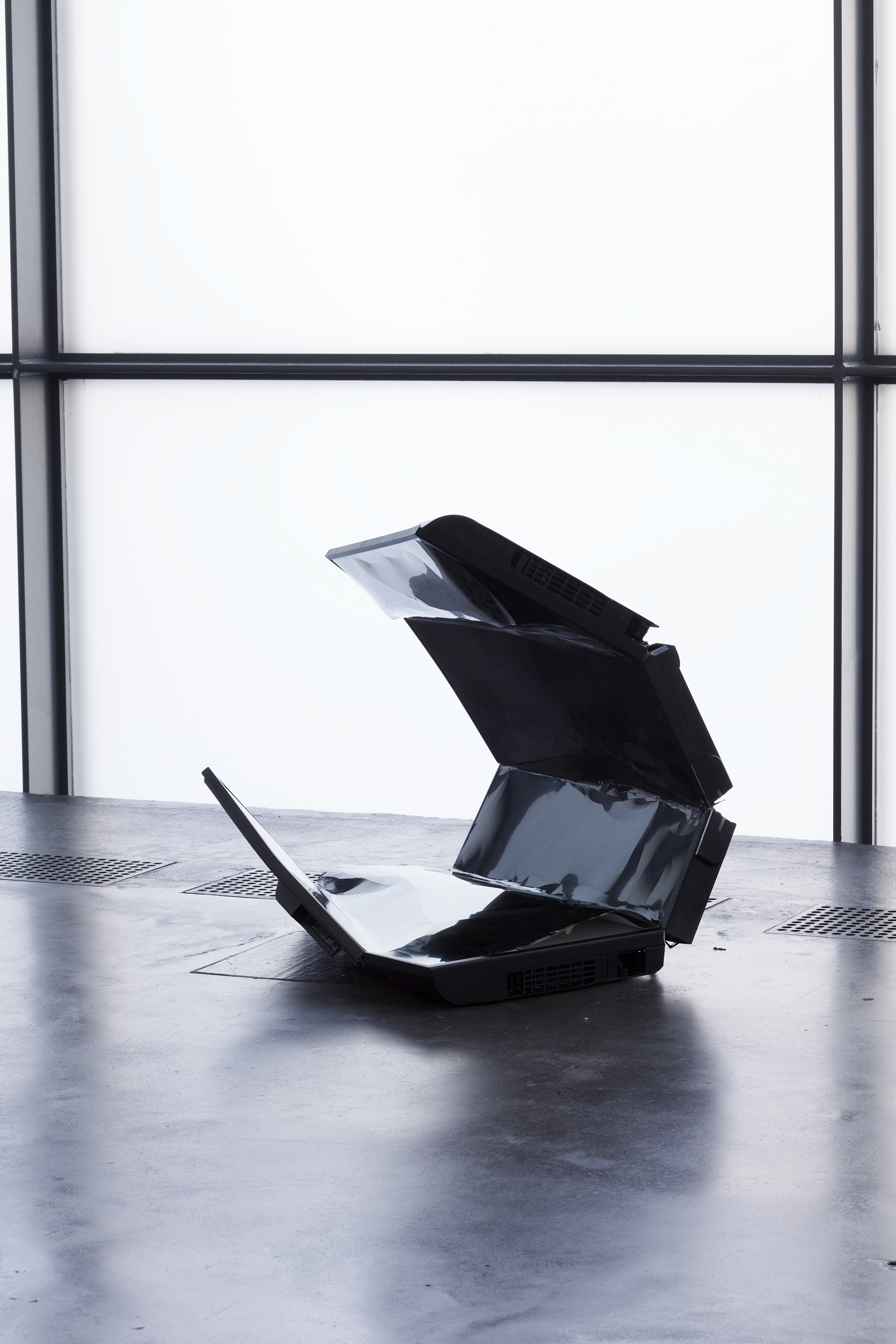 Funded by Kiasma Museum of Contemporary Art Helsinki.        
Photos / Kansallisgalleria | Finnish National Gallery / Pirje Mykkänen
ARS17: Hello World! is a survey of contemporary art focusing on the global digital revolution and its impact on our culture and economy, as well as human identity and behaviour. The exhibition in Kiasma, Museum of Contemporary Art, Helsinki brings together 35 artists from 13 countries representing three generations, from the '60s to the '80s. Many of the artists featured in the exhibition are post-internet millennials, who are digital natives more or less from the moment they are born. For them, the physical and virtual worlds are inseparable components of the same merged reality. In their world, digital technology is not an end itself, but a tool for creating, sharing and experiencing.
The ARS exhibitions are a series of major surveys of international contemporary art, organised since 1961. ARS17 is the ninth exhibition in the series, and the fourth to be held in Kiasma—the Museum of Contemporary Art in Helsinki, Finland.
Artists: Ed Atkins (1982, Great Britain), Andrey Bogush (1987, Russia), Nina Canell (1979, Sweden), Cécile B. Evans (1983, USA), Lizzie Fitch & Ryan Trecartin (1981, USA & 1981, USA), Melanie Gilligan (1979, Canada), Juha van Ingen (1963, Finland), Yung Jake (2011, Internet), Ilja Karilampi (1983, Sweden), Nandita Kumar (1981, Mauritius), Tuomas A. Laitinen (1976, Finland), LaBeouf, Rönkkö & Turner: Shia LaBeouf (1986, USA), Nastja Säde Rönkkö (1985, Finland), Luke Turner (1982, Great Britain), Reija Meriläinen (1987, Finland), Katja Novitskova (1984, Estonia), Jaakko Pallasvuo (1987, Finland), Aude Pariset (1983, France), Jon Rafman (1981, Canada), Charles Richardson (1979, Great Britain), Rachel Rossin (1987, USA), Jacolby Satterwhite (1986, USA), Hito Steyerl (1966, Germany), Anna Uddenberg (1982, Sweden), Julia Varela (1986, Spain), Artie Vierkant (1986, USA)
ARS17+ Online Art artists: David Blandy (1976, Great Britain), Ed Fornieles (1983, Great Britain), Juha van Ingen (1963, Finland), Rachel Maclean (1987, Great Britain), Florian Meisenberg (1980, Germany), Reija Meriläinen (1987, Finland), Pink Twins Juha Vehviläinen & Vesa Vehviläinen (1978 & 1974, Finland), Angelo Plessas (1974, Greece), Jon Rafman (1981, Canada), Tuomo Rainio (1983, Finland), Charles Richardson (1979, Great Britain), Jarkko Räsänen (1984, Finland), Axel Straschnoy (1978, Argentina), Jenna Sutela (1983, Finland), Amalia Ulman (1989, Argentina)