speech
, speed, speechless, speeding, speedy, speedometer, speedboat, speed, skating, speed or nullum crimen, nulla poena sine praevia lege 
belts of light brown leather, m

irror methacrylate

,

polystyrene

 
"Speech, speed, speechless, speeding, speedy, speedometer, speedboat, speed, skating, speed or nullum crimen, nulla poena sine praevia lege, by Julia Varela presents thirty-four belts around cut mirror forms that represent an anonymous body in fragments. The reflections and duplications in the work stem from Varela's interest in the practice of hired mourners who are used in some societies to extend and amplify grief at funerals. Just as the belts literally hold the work together, the exaltation of support mechanisms recurs throughout the exhibition. Varela's understanding of the body as a battlefield, as a space for the expression of conflicts, connects with the idea of overcoming adversity in a broader societal sense."  Aina Pomar.
La instalación alude a un cuerpo anónimo en fragmentos, deconstruido, que se dispone en el suelo en lo que podría parecer una posición de reposo. Realizada a lo largo de ocho años, ha pasado por varias fases a nivel formal. La obra se ha construido a partir de diferentes imágenes, todas tienen en común que evocan y representan cuerpos que se emplean como medio social para personificar sentimientos colectivos. 
El momento en el que la obra se convierte en una imagen, una unidad ocurre cuando a cierta distancia y en ciertos ángulos se pueden ver las diferentes partes de la obra reflejarse entre sí a través de los espejos. Cuando nos acercamos y rodeamos la composición, esta imagen se desvanece y la obra se descompone. Este aspecto interactivo emula el comportamiento de los cuerpos a través de la pantalla.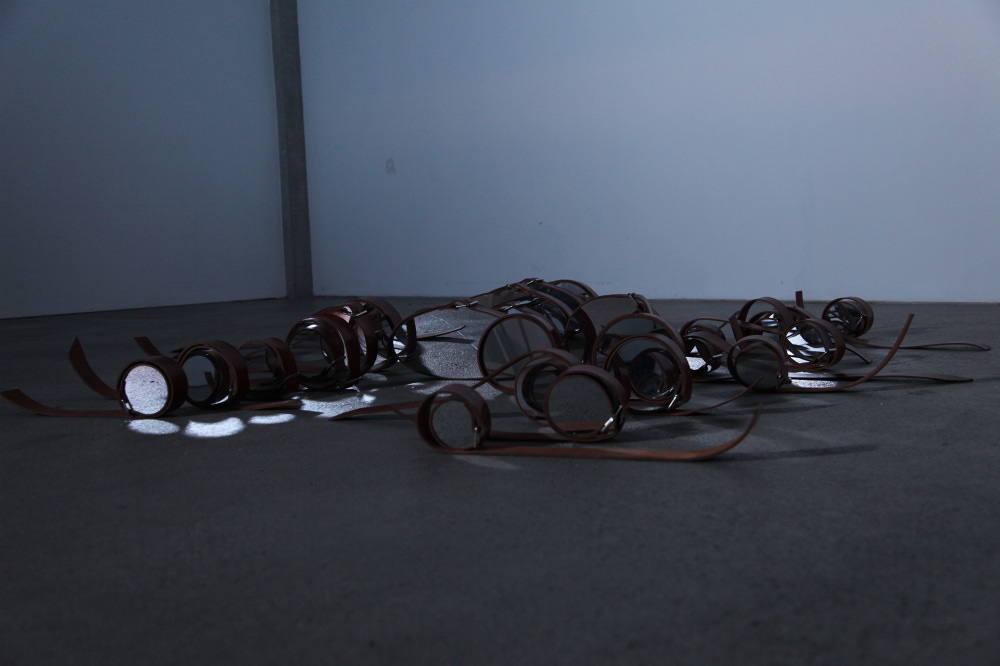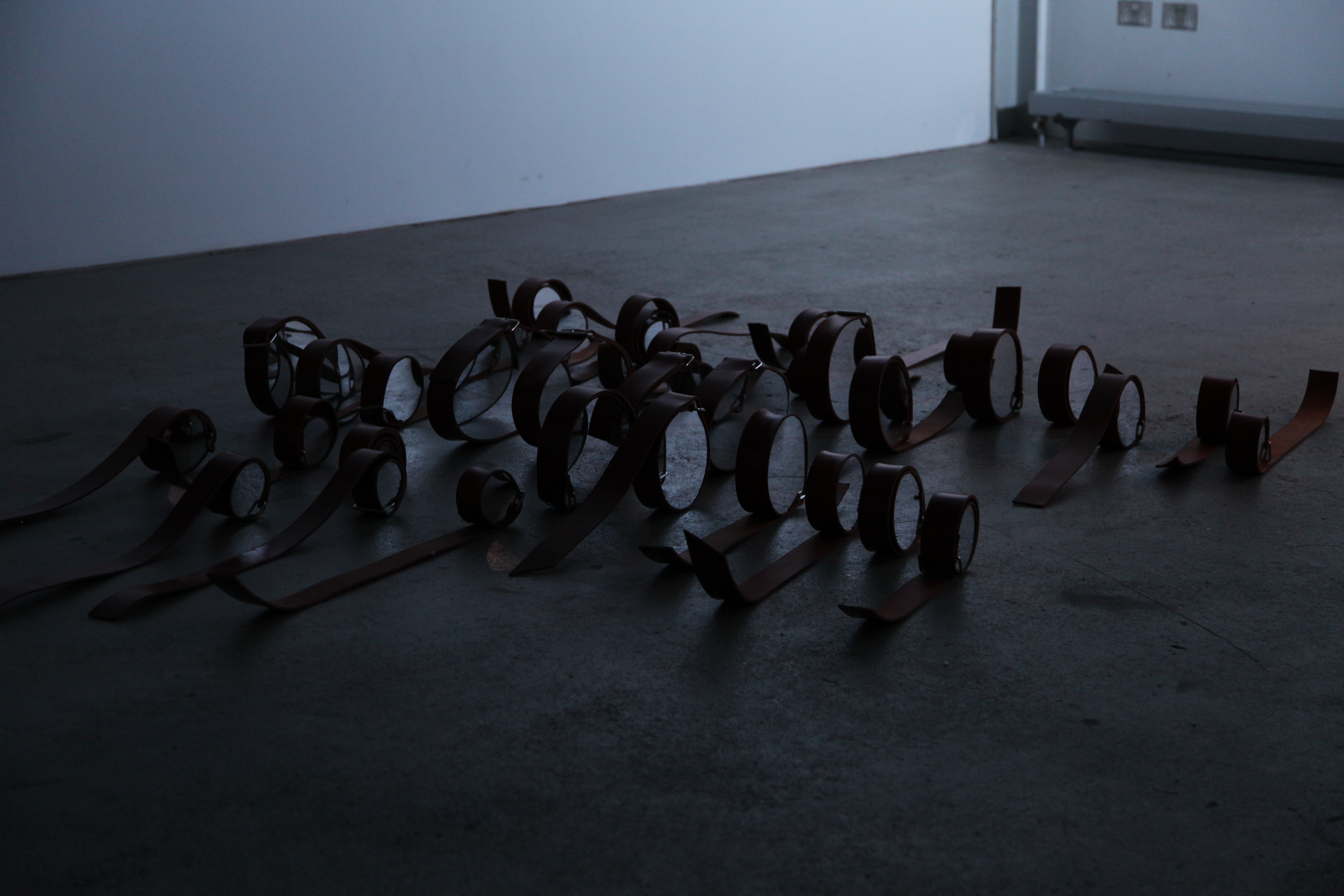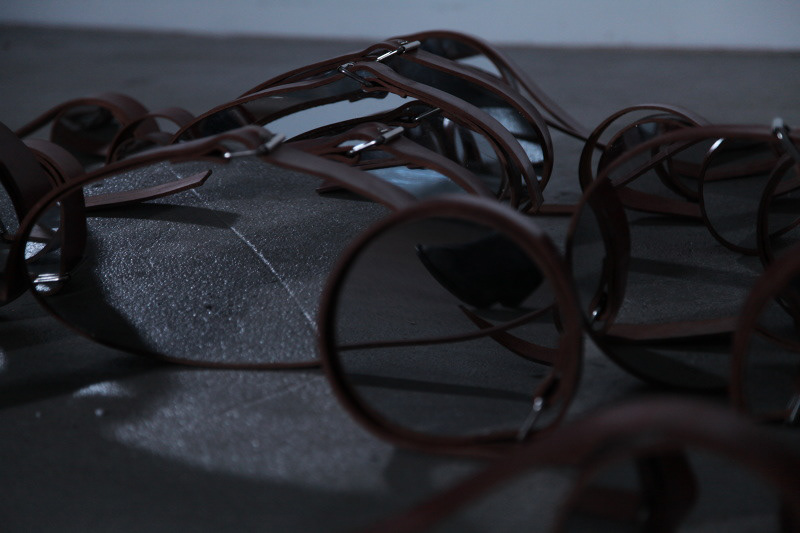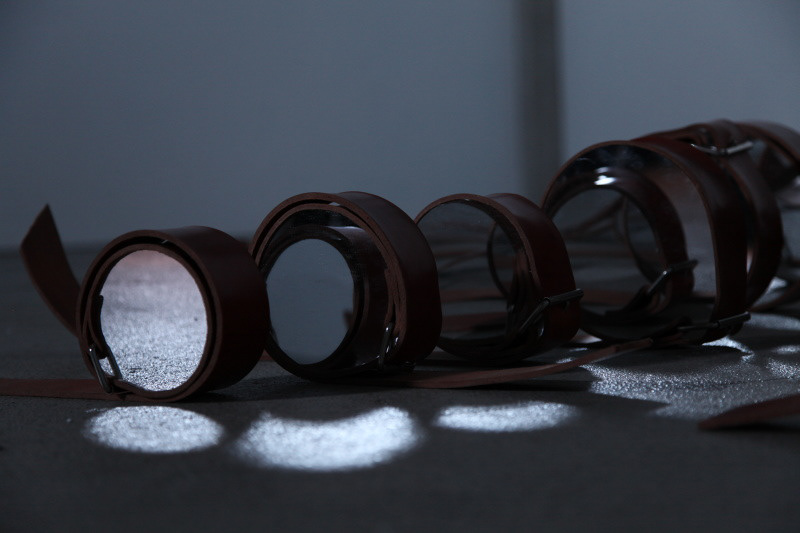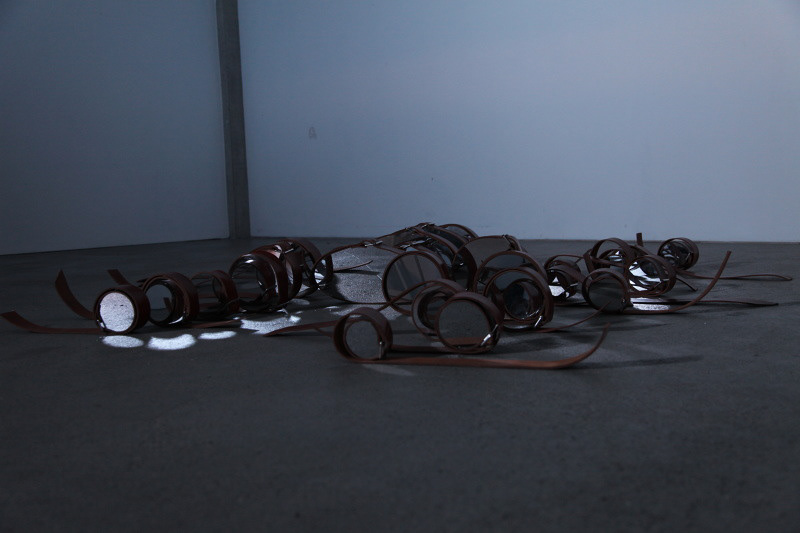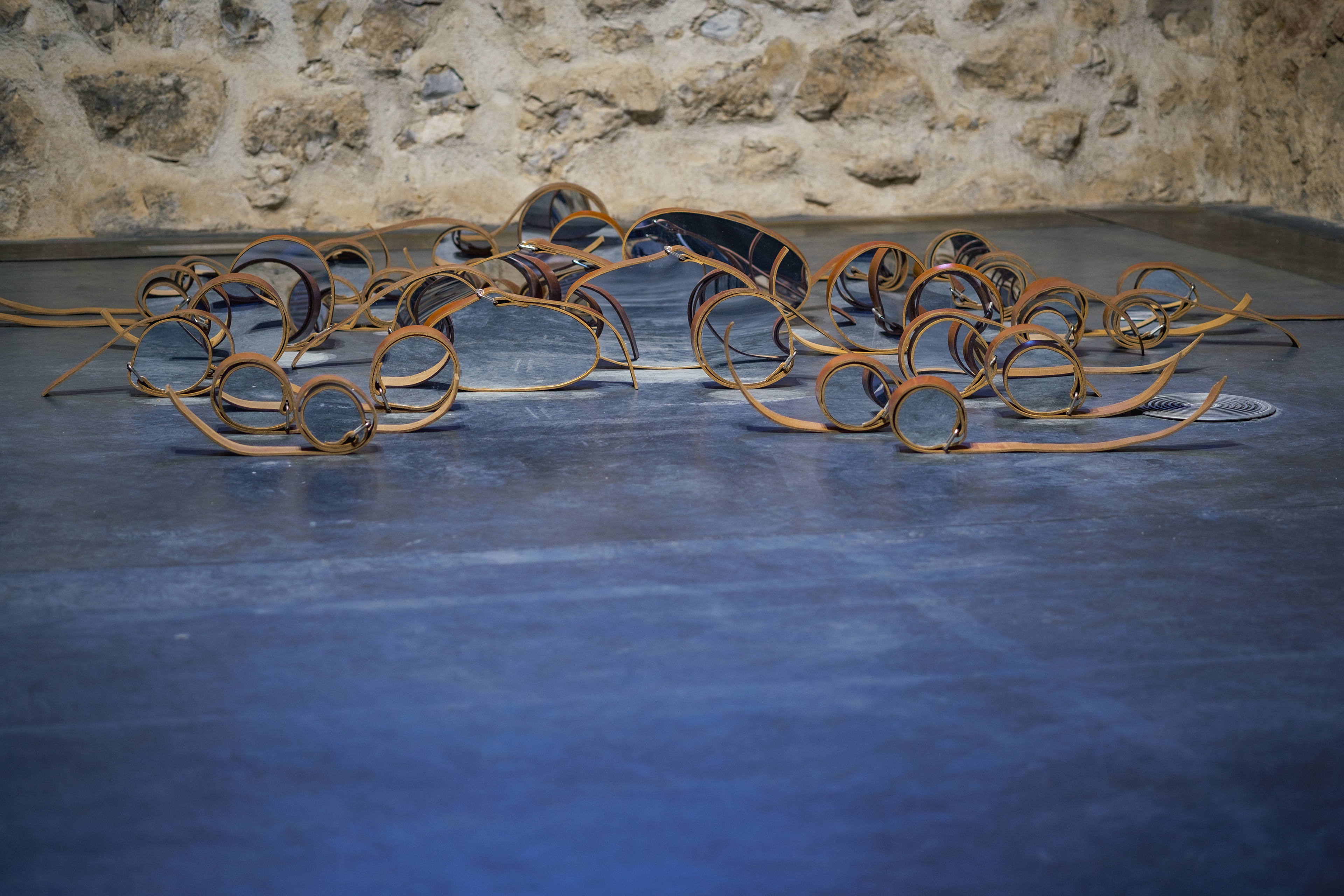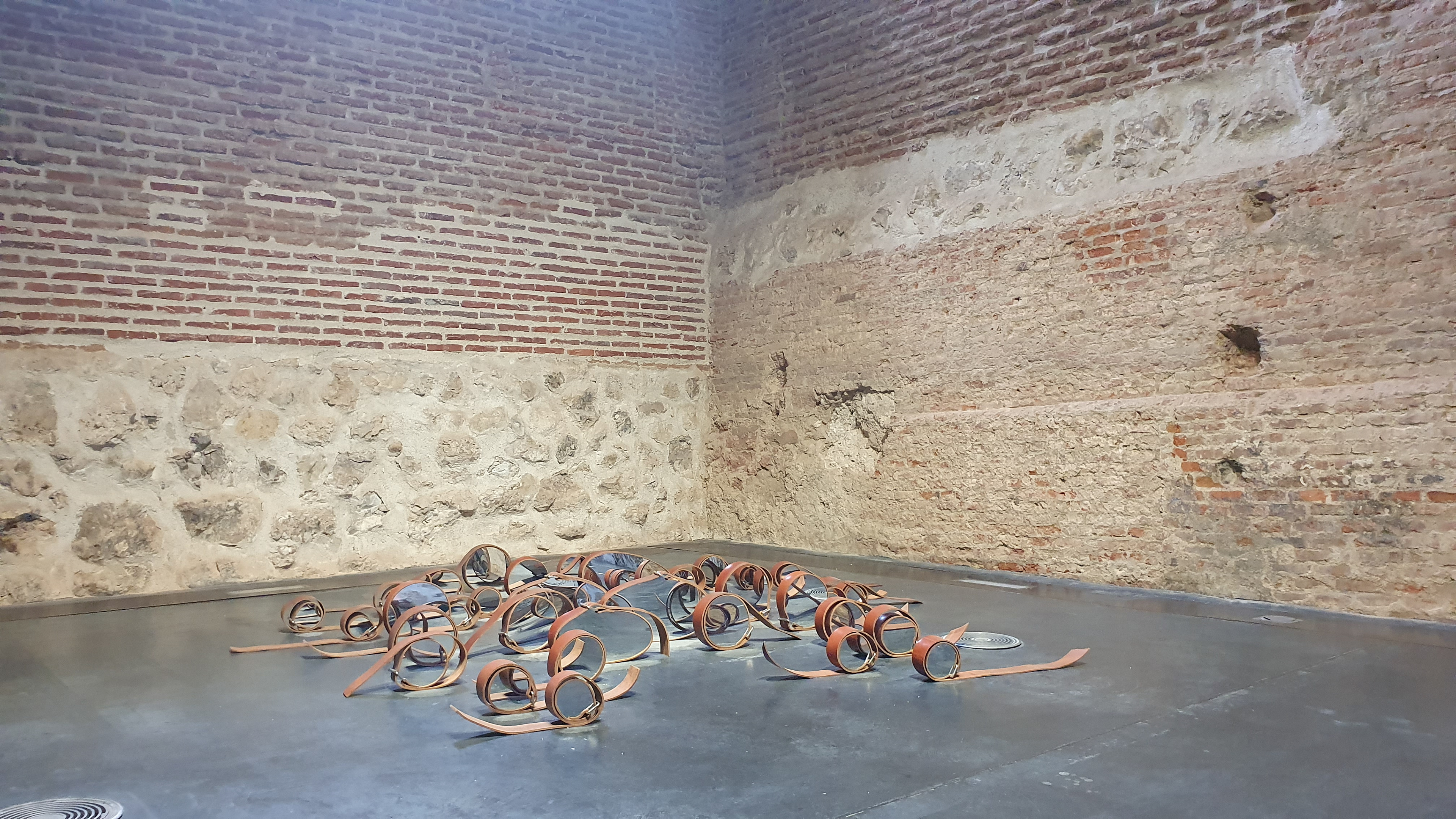 ....
Julia Varela's three-dimensional devices stand as scenographies capable of activating the viewer in a constant search for meaning. The iconic power of the objects he uses (I think, for example, of the creased and folded plasma screens of his work X / 5,000) does not intend to establish a specific chain of meanings but to open the door to the uneasiness of uncertainty.

In this direction Juan Cruz expressed himself when pointing out the possible background of the tension that underlies the artist's work: «Apparently he wants to shake us, move us and affect us with his undeniably evocative images, but at the same time he shows a certain disdain for his own ability to cause this effect, any effect. "(23)

Speech, speed, speechless, speeding, speedy, speedometer, speedboat, speed, skating, speed or nullum crime, nulla poena sine praevia lege, is a work made up of thirty-four leather belts adjusted around sixty and four mirrors; all of them rest on the ground and, at their disposition, seem to exhibit the structural cruelty of a fragmented anatomy. Like the shattered third body that Paul Valery (24) theorized, these indecipherable artifacts are incapable of explaining a sum that restores all of its provenance. Every body belongs to an individual who is potentially deviant and, therefore, "must circulate through a set of political architectures (domestic space, school, hospital, house, factory, etc.) that ensure its normalization" (25).

The current imperative of permanent connectivity has opened the possibility of extrapolating the old confines of the corporeal to the intangible realm of the virtual. But this same process would aim to convert the physical space and the biological body that inhabits it into a sterile conjunction, incapable of continuing to articulate itself as an affective framework between human beings. As Julia Varela herself has indicated, the work Speech, speed, speechless [...] «alludes to ways of preserving the physical setting in which to mediate and personify expressions of collective ecstasy or pain» (26).

At a time when information and communication technologies are completely redefining the texture of the social, the artist evokes the hard materiality - local, based on a plane, of thick and lasting relationships - that has traditionally shaped spaces of our social daily life. Spaces that, as Michel Serres pointed out, have always welcomed the germ of the virtual as a phenomenon inscribed in the same definition of the human (27). The essential difference would lie in the fact that current technological networks make up a universe governed by the concepts of speed and immediacy, hopelessly crossed by the shadow of oblivion and where emotions seem to be doomed to immediate obsolescence.


(23) Cruz, Juan. «Julia Varela», in Generación 2016. Madrid, La Casa Encendida, 2016, p. 156.
(24) Paul Valéry proposed to dismantle the unique notion of the corporal to offer us three possible access routes: the first body is that asymmetric mass that catches sight of me and that I always live in the present. The second is the uniform envelope seen by others, that whose surface I see aging in the mirror. The third, however, is deprived of unity: it is the open body, which I only know in pieces, dissected as if a surgical technique had intervened on it. (Cfr: Valéry, Paul. "Some reflections on the body", in Nadaf, R., Tazi, N. and Feher, M. (Coord.) Fragments for a history of the human body. Vol. 2. Madrid, Taurus, 1990, pp. 395-406).
(25) Precious, Beatriz. "Queer cartographies" in Dissident Cartographies. Barcelona, ​​SEACEX, 2008, s.p.
(26) In this same direction, one of the first references by Julia Varela for the configuration of this work was the Lacanian idea of ​​the choir in classical tragedy, a set of voices that mediates collective catharsis and where "a healthy disposition of the scene takes charge of our emotions "(Lacan, Jacques. Seminar 7: The ethics of psychoanalysis. Buenos Aires, Paidós, 1988, p. 303).
(27) «Uniqueness of our century, communication networks make virtual spaces that were once reserved for dreams and representations a reality: a world under construction in which, delocalized, we locate and move, space less remote from what one thinks of the old territory, since not long ago, those who remained attached to the earth lived in the virtual as much as we do, although without adapted technologies »(Serres, Michel. Atlas. Madrid, Cátedra, 1995, p. 15) .
Text written by Carlos Delgado Mayordomo